Please join on us Friday, March 31, 2023 for an exciting Trunk Show featuring these outstanding equestrian brands; drinks and small bites will be served.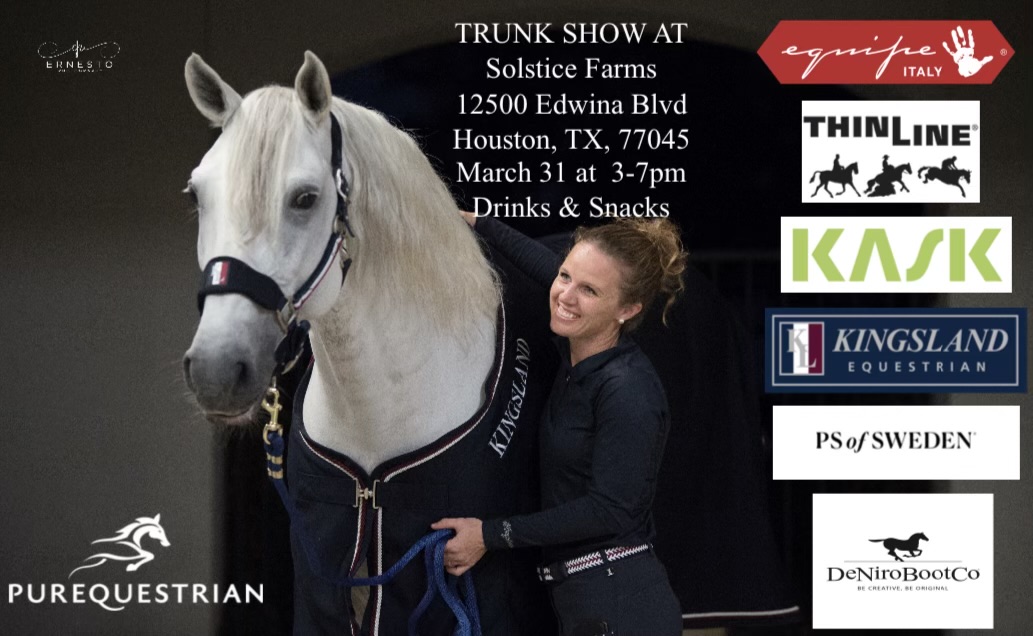 Solstice farms is proud to congratulate Lisa & Haven - Intro Level AA Champions at the 2022 HDS Schooling Show Championships!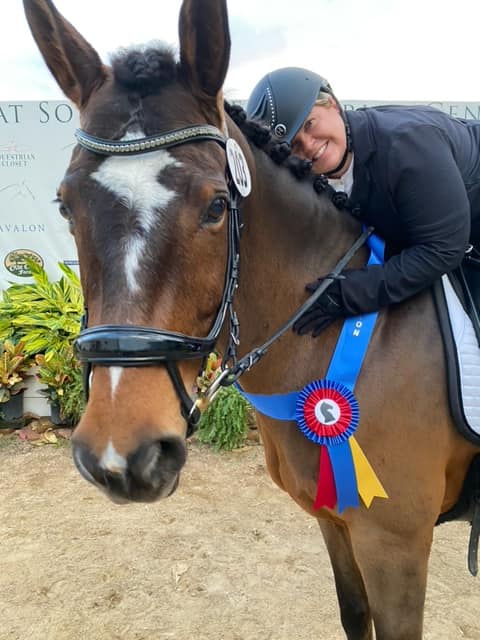 Marlena Kurz has joined us as both teacher and trainer. Marlena is a USDF Gold medalist with a positive, horse-first approach to riding. 
Join us at our quiet, charming, city oasis. We are located only three miles south of Reliant Park, a short commute to the Medical Center and downtown Houston. Marie Morgan, USDF Certified instructor and ONLY two-time winner of the Region 9 Teaching Excellence Award, will continue to teach as well.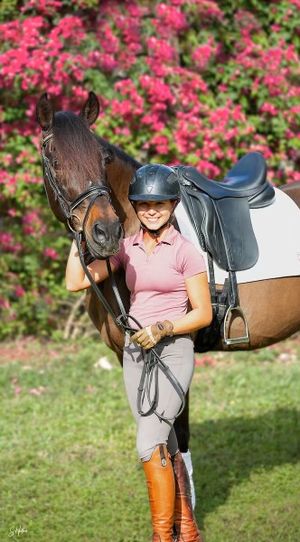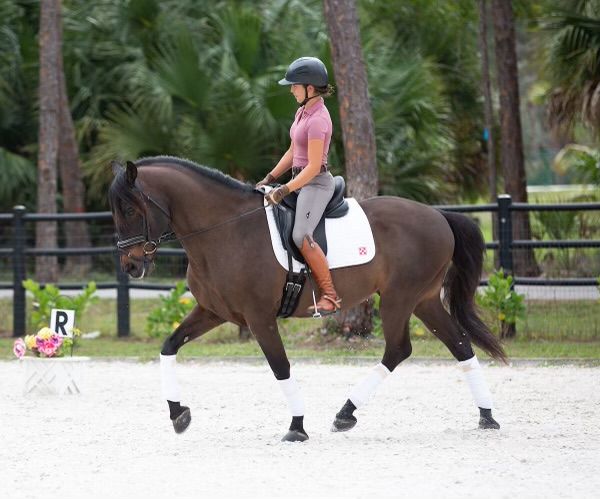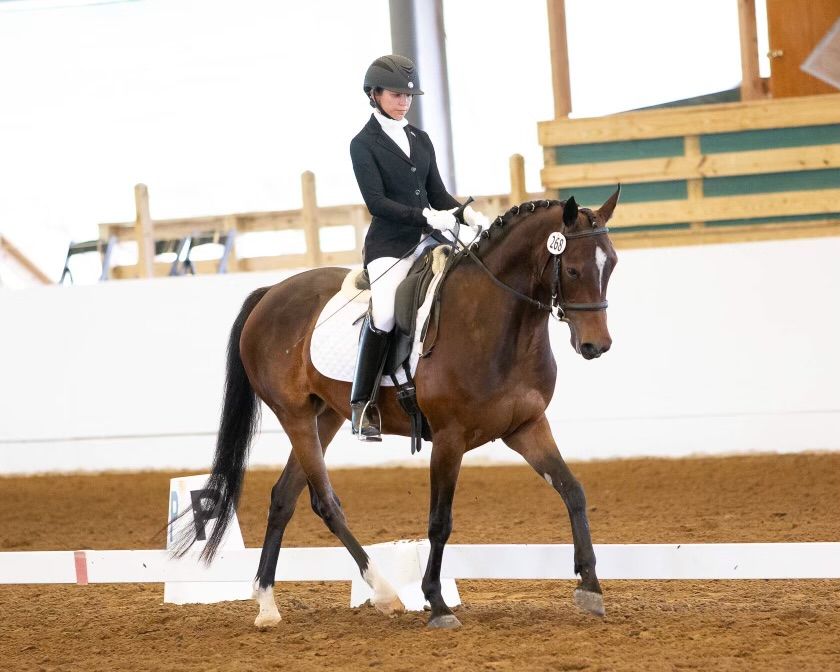 ---
Congrats to Stefni & Huckleberry on winning their class at their PSG AA debut.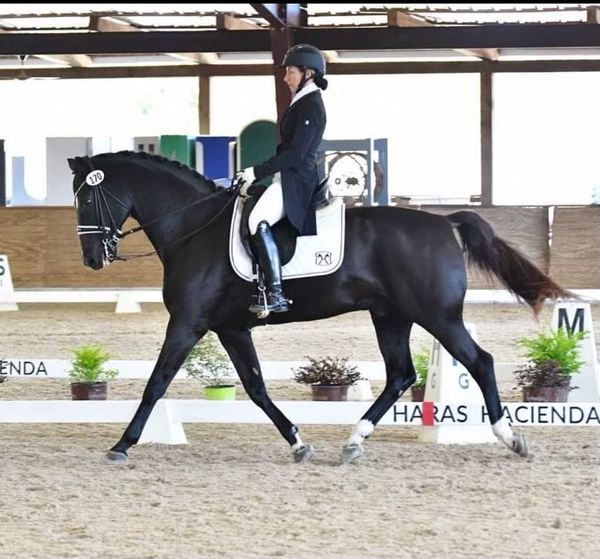 ---
**We are following all CDC guidelines concerning Covid-19 social distancing and mask wearing.  Thank you for your cooperation.
---
We've had several inquiries lately, and would like to confirm that we are no longer hosting schooling shows at Solstice Farms.  We have loved hosting them, and encourage all of our past participants to check out the other numerous schooling shows in the Houston and surrounding areas.  Thank you!
---
Our very own Marie Morgan is on the cover of the current issue of The Dressage Federation magazine! Congrats!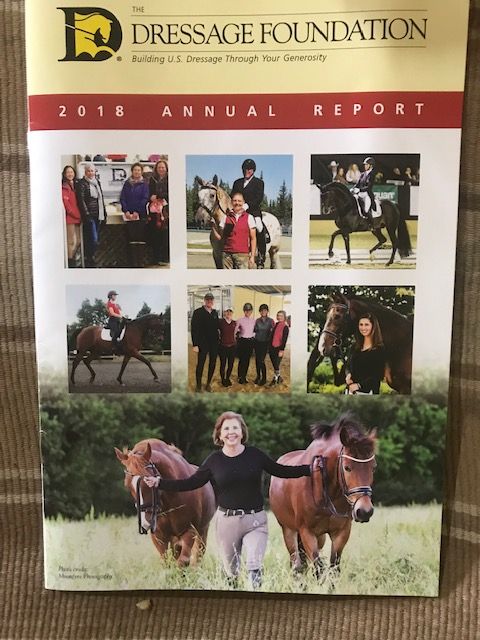 Solstice Farms is very proud and excited to announce that Marie Morgan is the recipient of the 2018 Region 9 Teaching Excellence Award!!  Marie also received the inaugural presentation of this award back in 2009.  All of Marie's students and everyone at Solstice Farms wishes Marie a sincere congratulations! She received her award at the annual Region 9 Championships dinner on Saturday, October 6th.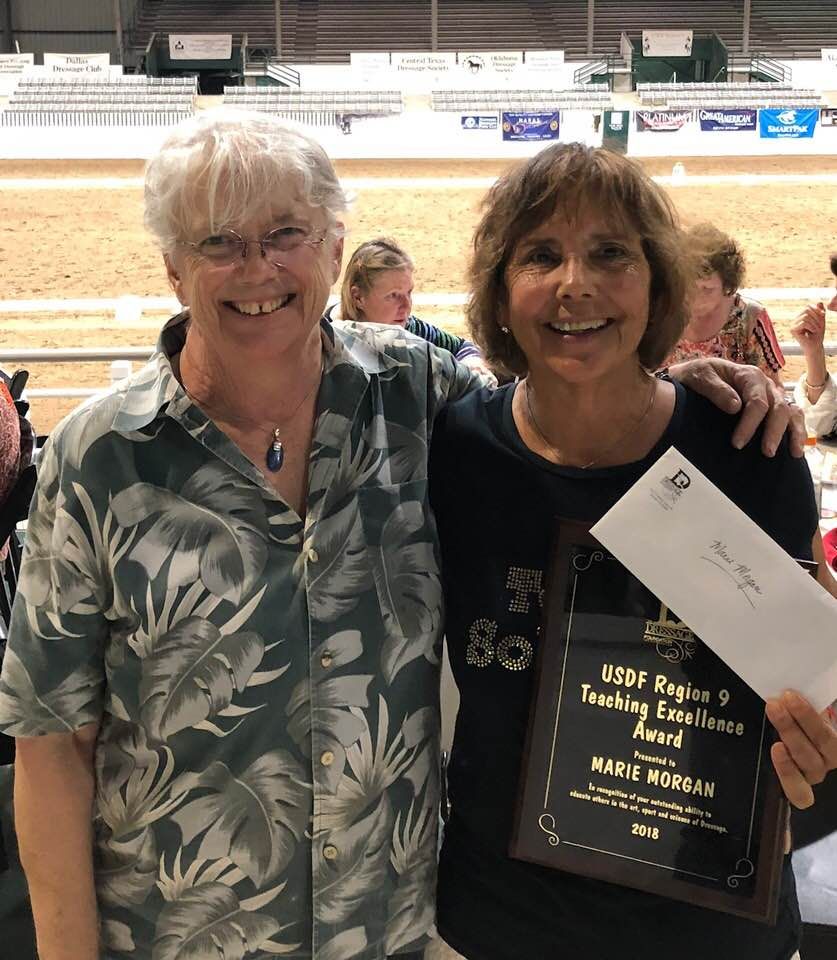 Meg Flemming presents Marie her award.
Marcella and Mighty Mouse!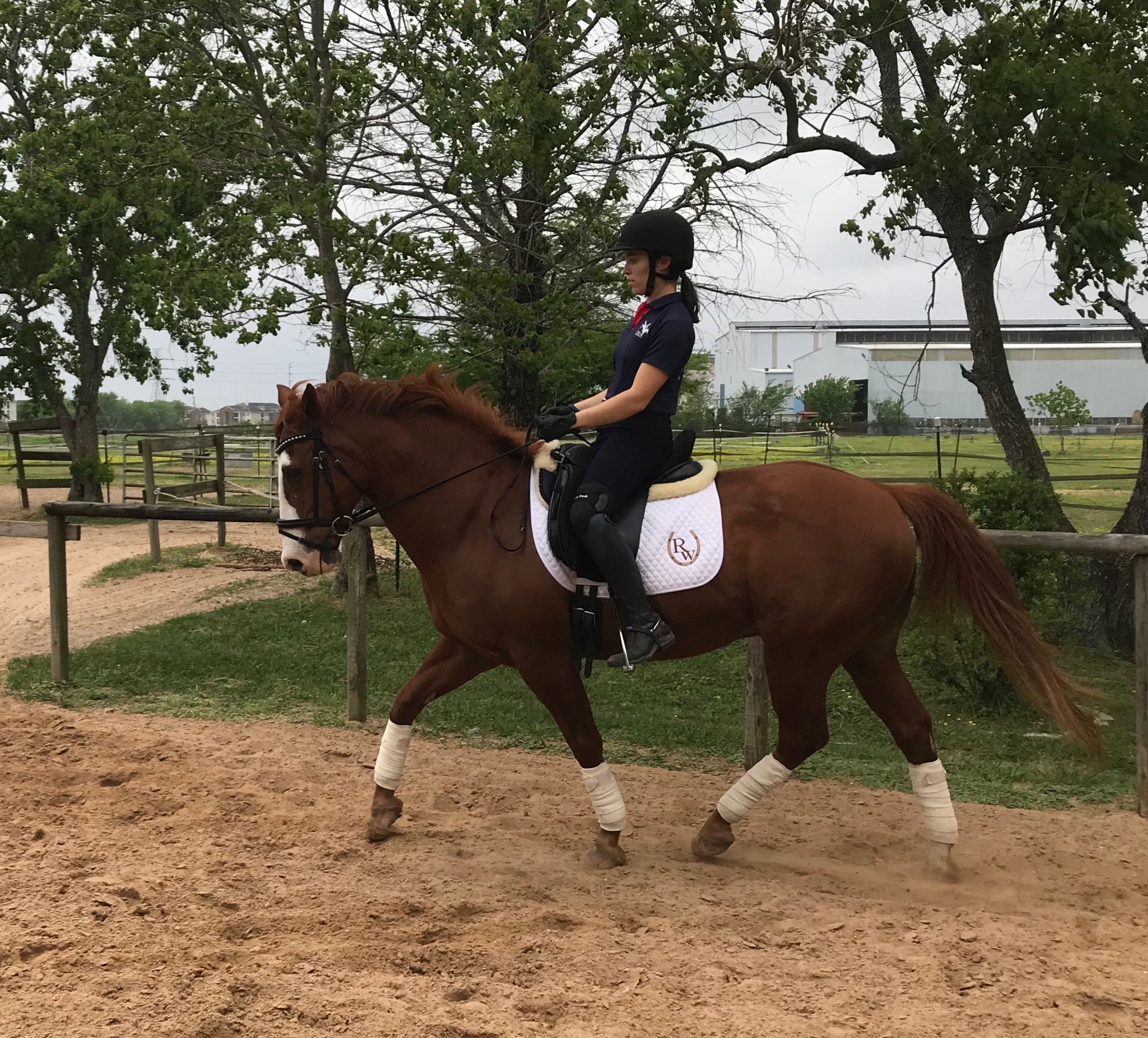 Snow Day at Solstice Farms!  December 8, 2017.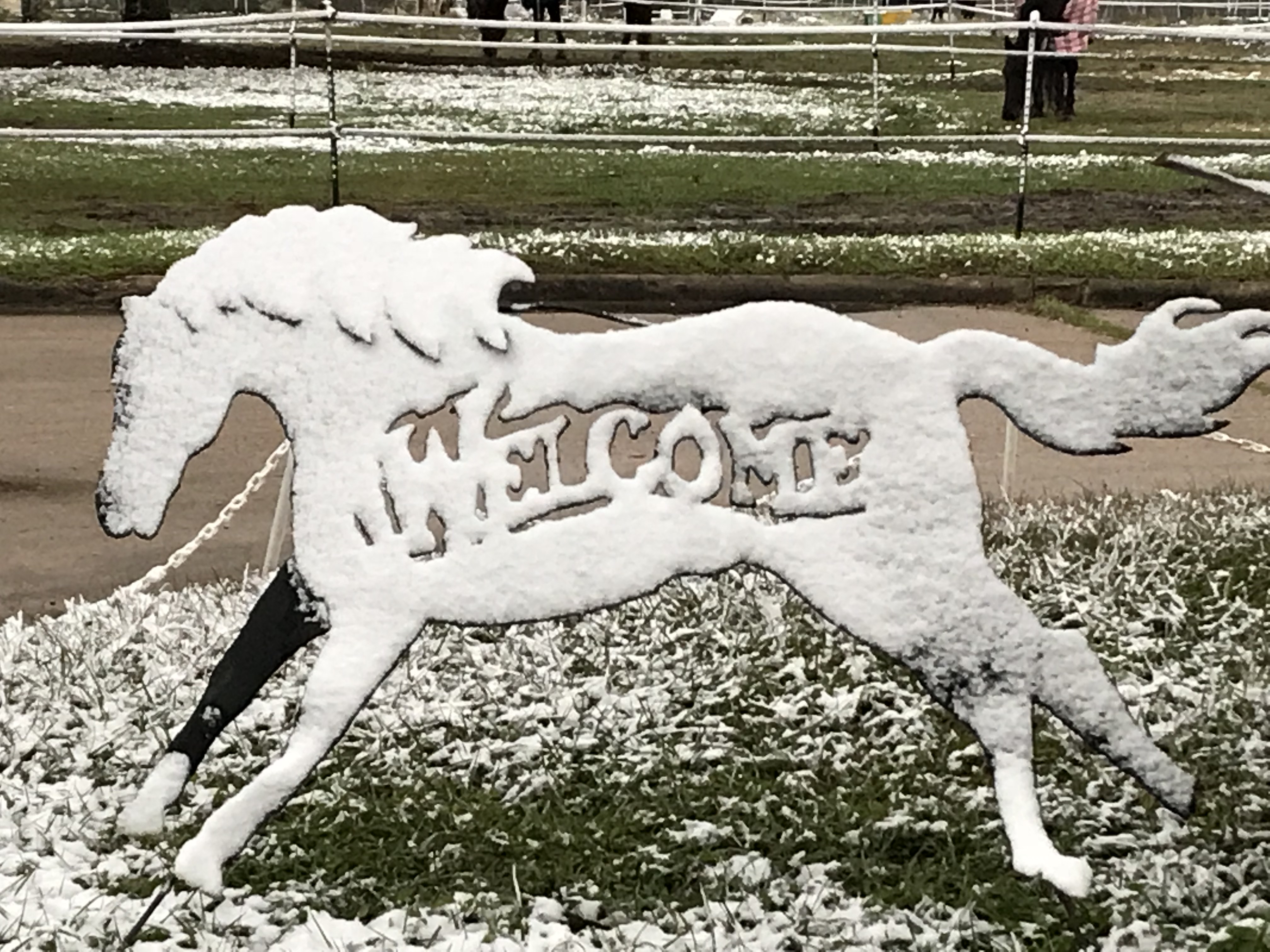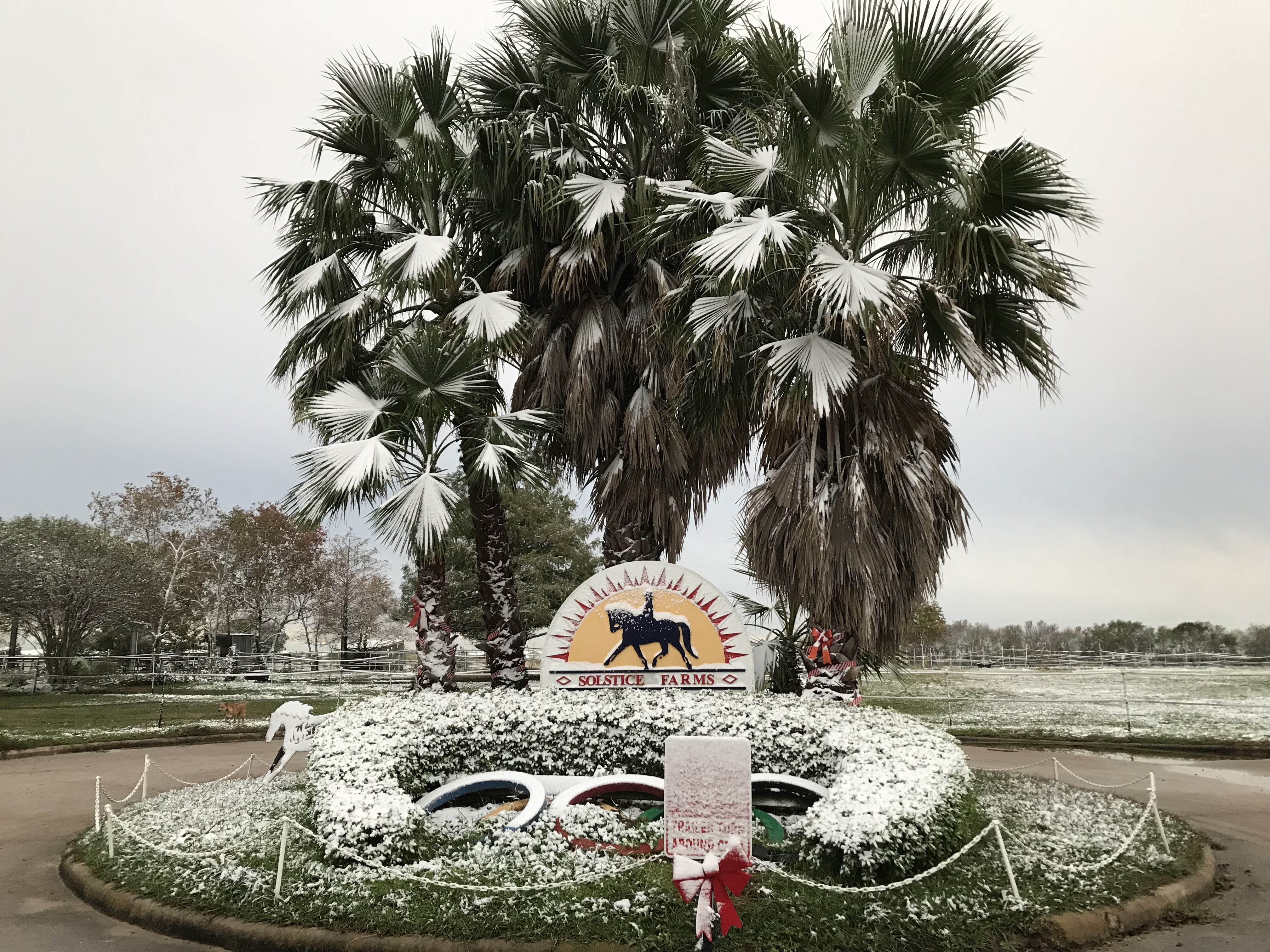 The Solstice Farms crew had an excellent showing at the 2016 HDS Schooling Show Championships.  A huge congrats to all of our riders; the Friesian Pas de Deux definitely stole the show!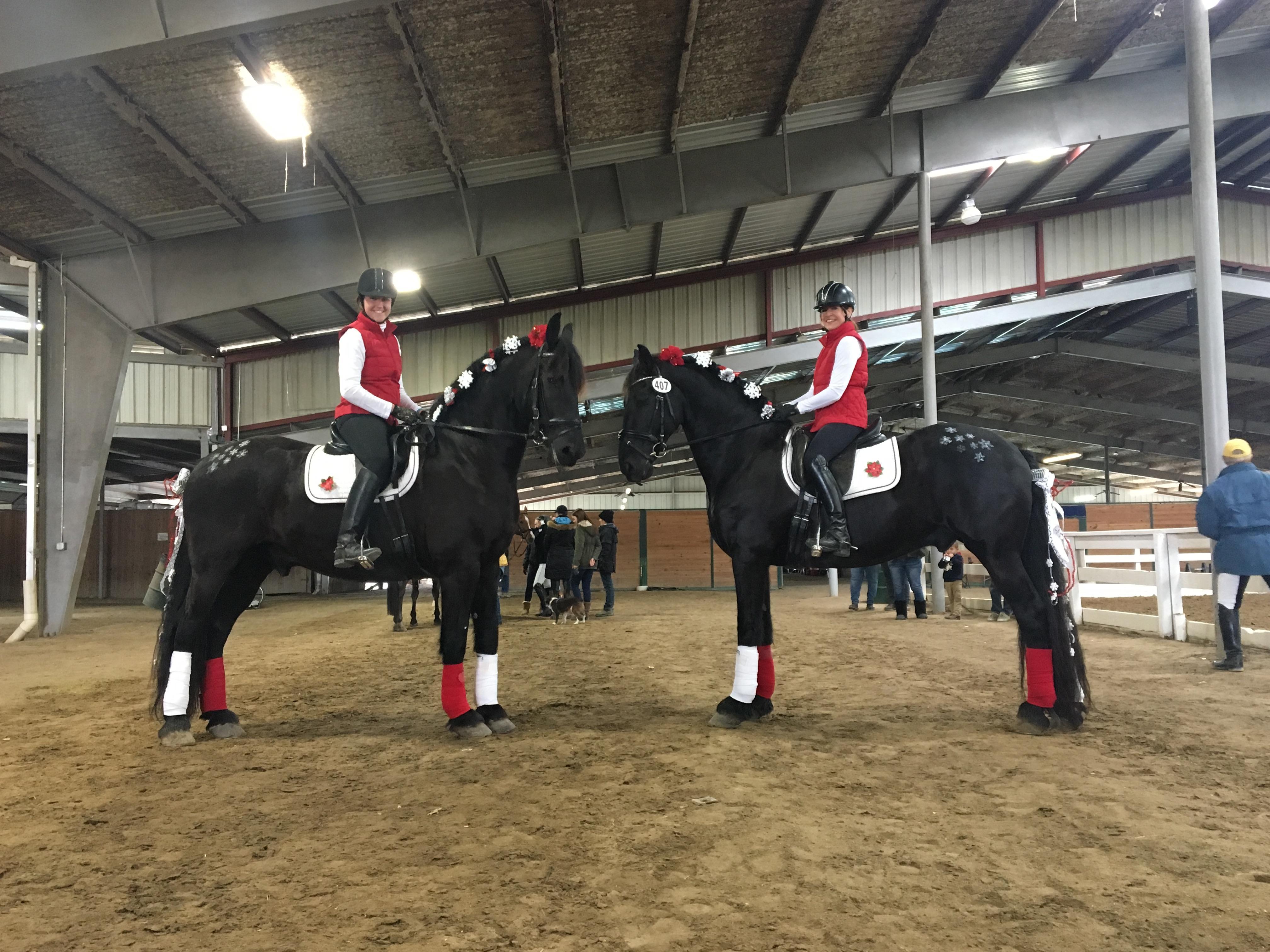 Laura & Zane, Lauren & Marcello
Solstice Farms is excited to congratulate Marie Morgan on being presented with the Charlotte Raisbeck Memorial Award for Exemplary Sportsmanship from HDS!!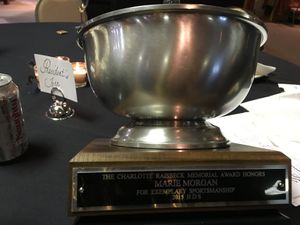 Solstice Farms' Gryffindor made his show debut at the Windy Knoll Summer Show the weekend of July
25-26 2015
, where he also received his official USDF Pony Card.  He cemented his rock-star status with scores of 69.77 and 67.95 at training level while competing in the National Dressage Pony Cup - Pony Power!  Not to be out done, Mighty Mouse had a wonderful weekend showing at Grand Prix, earning rave reviews from the judge.  Big congrats to Marie, Mouse, and Gryff!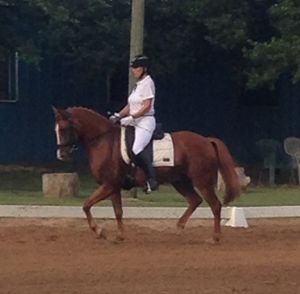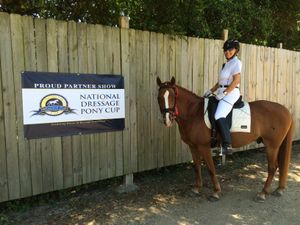 Teaching Excellence Award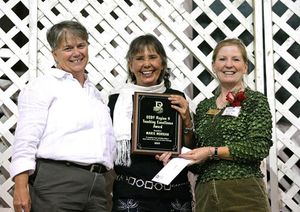 (November 4, 2009) Lincoln, Neb. – Marie Morgan (TX) received the first annual "USDF Region 9 Teaching Excellence Award" at the Great American/USDF Region 9 Championships held in Katy, TX in October, 2009. She received a $5,000 award for demonstrating outstanding abilities as a dressage teacher.
The "Region 9 Teaching Excellence Award" was established at The Dressage Foundation in 2009. The purpose of the award is to showcase and honor excellence in dressage teachers. Dressage instructors are nominated by students or peers, and then submit an application that is reviewed by a prominent Selection Committee. In addition to being a USDF Region 9 member in good standing and a Region 9 resident, the recipient must also demonstrate adherence to sound dressage principles and have the ability to communicate these principles of training so that students develop themselves and their horses in a logical, progressive, and humane way up through the levels. The recipient should also have a reputation for honesty, integrity, and community service.
Meg Flemming (TX), originator of the award, said that Marie "shows a clear understanding of the training pyramid and an excellent logical and progressive teaching methodology. She has years of experience teaching all levels of riders on all types of horses, and has significantly contributed in various ways to developing the health and well-being of dressage education in our Region."
"I'm so proud that USDF Region 9 has taken the lead with this $5,000 Annual Award for Teaching Excellence," said Bess Reineman, Regional Director for USDF Region 9. "We hope this recognition of teaching excellence will inspire our Region's dressage instructors to further enhance their teaching," Reineman added.
"It is a privilege for The Dressage Foundation to provide the stewardship services role for this award that is given annually to a deserving dressage instructor," said Jenny Johnson, Administrative Manager for The Dressage Foundation.
For more information about the Region 9 Teaching Excellence Award or The Dressage Foundation, please contact Jenny Johnson at (402) 434-8585 or visit
www.dressagefoundation.org
.  
The Dressage Foundation

The Dressage Foundation is a 501(c)(3), non-profit, tax-exempt, donor-driven organization that is dedicated to supporting and advancing the sport of dressage. The organization solicits contributions, appropriately allocates the donations, and awards grants and scholarships to dressage riders of all ages and levels. For more information, please visit
www.dressagefoundation.org
.